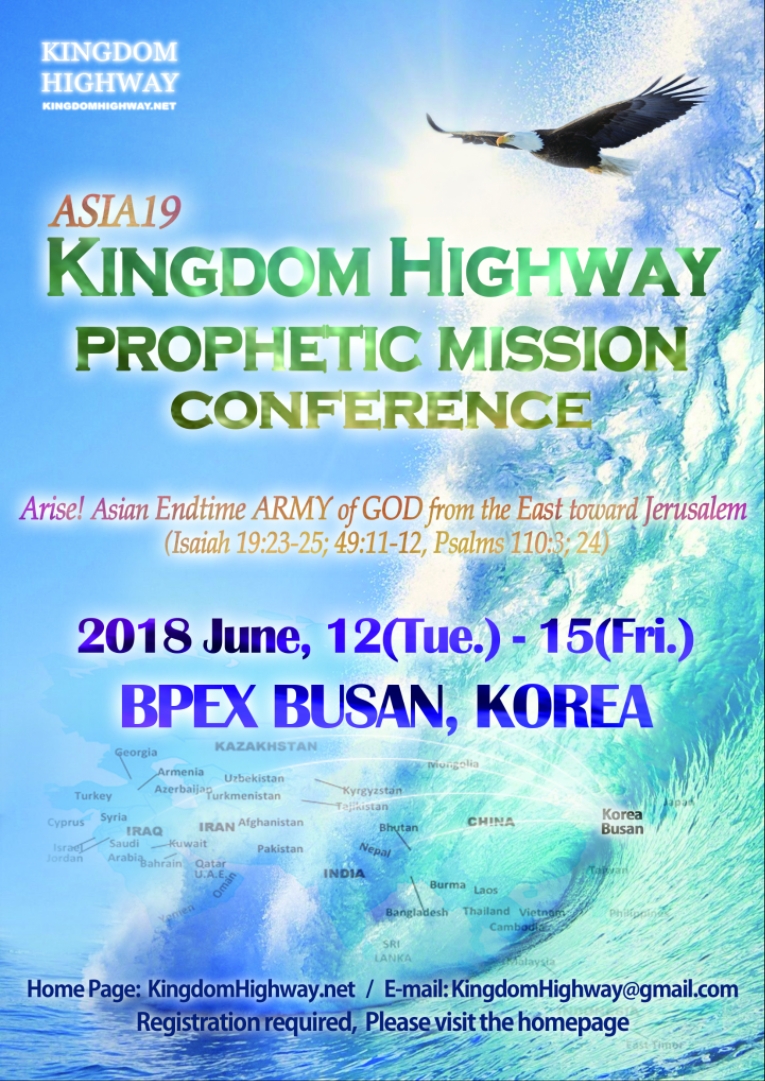 2018 Asia19 Kingdom Highway Conference in Busan
n Purpose: For arising of Asian End-time Army of God marching for the great harvest from the east toward Jerusalem
n Date: June 12-15 in 2018 /Time : 10:00 am-10:00pm (on 12th registration open at 1pm & starts at 3pm)
n Speakers : To be announced (from more than 10 countries of Isaiah 19 region & ASIA)
n Target Audience: Those young age and ministers and saints who has divine calling from God regarding breakthough harvest field from the East toward Jerusalem
¨ª Venue: BPEX Convention Center 5F
Address: BPEX(Busan Port EXhibition&convention center, Busan Port International Passenger Terminal 5F) #206 Chungjang-daero, Donggu, Busan, South Korea
www.busanpa.com
¨ª Registration Fee: (Limited seats, till June 7th, 2018 ONLY!!)
- US $50 (per person) : Registration only (Accomodation & Meals are not included)
- US $500 (per person) : Registration with Accommodation & Meals (14 meals, starts at the dinner on 11th, ends at the breakfast on 16th)
(special price for 5 nights Hotel) in the following service included
a. Check-in 11,June /Check-out 16, June for 5 nights at 4 star hotel
b. Twin room, Bed& Meals (14meals, starts at the dinner on 11th, ends at the breakfast on 16th) included
c. Single room $200 extra per person
d. Only 150 discount rooms available and the price will be general price after sold out. You can also book hotels near the venue.
e. Hotel info: Crown Harbor Hotel
Transportation: Walking 10 minute from Busan KTX train station to hotel and to the conference venue only 10 minutes
NOTICE
¨ª Visa for international guest
If you need a visa to enter South Korea, we advise you NOT to register UNTIL you have obtained your visa.
Please see if your country has ¡®No visa permission¡¯ before visiting to Korea in the following list. For visa information for visiting to Korea, please check Korean embassy in your nation.
©÷ Asia & Oceania –30 days visa permission for Japan, Taiwan, Malaysia, Thailand, Singapore, Hongkong, Macau, Brunei, Guam
& 90 days visa for Australia, NZ ,Fiji and Samoa
©÷ America – 32 countries including USA, Canada etc
©÷ Europe – 43 countries including Germany,France etc
©÷ Middle-east &Africa – 30 days for Morocco, Egypt, Saudi Arabia, Qatar, Kuwait, Barain & 90 days for Israel, Arab Emirate, South Africa
¨ª Refund policy
Registration and full package fees for this event of ¡®Kingdom Highway Conference¡¯ are not refundable.
Please contact KingdomHighway@gmail.com if you have a question.
Registration click- https://goo.gl/forms/y9lndrwvAeGs8nSM2


Payment click (below)

1. For Registration with Accomodation & Meals
Checkout $500

2. For Registration Only (without Accomodation & Meals)
Checkout $50
Registration fee and full package including accommodation are not refundable!

Contact : KingdomHighway@gmail.com